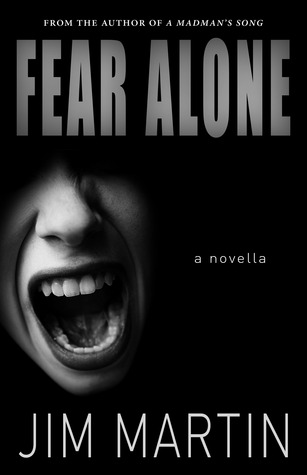 Book and Author Details:
Author Jim Martin
Fear Alone on GoodReads
Fear Alone on Amazon
Description from Author:

After having been brutally attacked and left for dead by an abusive husband, Gillian Adams has made a full recovery and is only days away from moving across the country in search of a brighter future. In the sleepy town of Shadow Lake, however, things are not always what they seem, and an unexpected radio announcement reignites all of her darkest fears. Gillian knows her only chance for survival is to get out of town before it is too late. But outside, a storm is brewing, bringing with it a series of strange occurrences which threaten to unravel both her plans for the future and her very sanity as well. Shadow Lake, it would seem, has its own plans for Gillian, and she is about to discover that this day may not only be the most terrifying of her life, but also the deadliest.
My Review: *trigger warnings for domestic violence victims*
This is my second written work by Jim Martin that I have had a chance to read and review. As you recall from Book Case #18, "A Madman's Song" I thoroughly enjoyed his work.
Fear Alone is a novella that is packed with so much intensity I feel like I held my breath from cover to cover.  I have to admit, it was somewhat hard to get through on a personal level. If you are, or have been, a victim of domestic violence, this may be a hard book to get through. Despite my personal reactions to some of the more intense scenes, this book is very well written.
Gillian, a survivor of a horrific event that almost took her life, discovers that the very person who did this to her has escaped prison. Knowing she was set to flee, she now felt the push to make it happen quicker. As her predator chases her, she chases time; eventually, someone is going to give up the chase.
What struck me the hardest was how poetically weaved the abuse, the build up and the ending creating a well written story. The battle within the few hours we tracked Gillian's life was easy to relate too,  and believable.
For a quick, powerful read, check out Jim Martin's "Fear Alone".